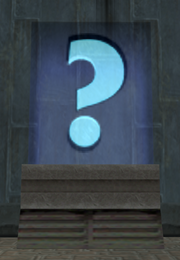 Side missions are optional missions in Jak 3. They are accessed either via from oracle totems in Spargus, the Wasteland, and some parts of Haven City, or from computers set up by Kleiver and Torn for their own challenges in the Wasteland and Haven, respectively. After unlocking a mission you can simply walk up to the computer or statue and press

to begin the side mission, assuming you are not in another mission. They also need to be paid with skull gems to be able to play the mission. All the orb searches cost 4 gems and reward 3 Precursor orbs, the different races all cost 8 gems and reward 10 orbs, while the few unique missions in the "Others" section (and some minigames) cost 12 gems and reward 18 orbs in total.
| Type | Description |
| --- | --- |
| Orb search | A very common side mission, once activated the camera will switch and show the location of a Precursor orb, usually with some kind of notable object in the background. This image stays on screen for a second and then it will switch back to Jak, who will then have a set time limit to collect the orb. The time limit varies between side missions, dependent on the distance between the player and the orb. |
| Race | Races in Jak 3 are more diverse than they were in Jak II. Aside from the standard ring race with accelerator rings it now also includes spirit races where you must chase a blue light until the end and timer races where collecting "time freezers", represented by clocks of varying colors, stop time. Leaper lizards and buggies are the main vehicle for these missions in Spargus and the Wasteland, respectively. Zoomers are the main vehicle for these missions in Haven, with the exception of Ring Race 1, which uses the JET-Board. |
| Other | There are four special side missions, two of which are technically repeats of a main mission, one of which is based around one specific enemy and another which is technically a minigame. |
| | |
| --- | --- |
| Title (computer) | The title of the specific side mission, these might be numbered. The computer number is included as well, corresponding to the one on the map. |
| Required mission | Any required (side) mission(s) that need to have been completed until the side mission can be started. |
| Other | Specific details, such as time limits, targets or other info. |
| Guide or Map | Either guide as to how to complete the side mission or a map detailing the location of the objective, assuming either is required, they are not if the side mission is sufficiently straightforward as is. |
| Title (computer) | Required mission | Length | Guide |
| --- | --- | --- | --- |
| JET-Board challenge (no. 23) | Destroy barrier with missile | 1:30 | A minigame in which Torn orders Jak to show him the usefulness of the JET-Board by performing tricks to earn points. |
| Missile ride challenge (no. 24) | Destroy barrier with missile | 24 tokens | Based on the "Destroy barrier with missile" mission, race through the Port area to collect all 24 tokens, you do not blow anything up with the missile afterwards. This challenge is a bit more difficult than the original mission based on where the tokens are located, you are under a timer, and there is no checkpoint halfway through. |
Community content is available under
CC-BY-SA
unless otherwise noted.