The Timberline Track is a combat racing track used in the Kras City Grand Championship during Jak X: Combat Racing. One of two medley tracks in the Icelands, it starts out next to the uninhabited area of the crystal-filled caves of Mountaintop Highway, then it leads across the frozen tundra of the Icelands itself and into the Marauders' Icebound Citadel.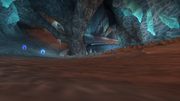 The Timberline Track has some wide open routes and plenty of straightaways, so a fast and light race car is recommended. Straight from the start, the path curves to a right and over a ramp into a large cavern filled with bright blue crystals. Watch out for a large pit at the end of the cave on your right, as well as the narrow bridges that follow afterwards (any evasion maneuvers won't work well here). These bridges signify the starting area of Mountaintop Highway, but you leave this particular track immediately after as you are forced to head right when entering another tunnel.
Upon exiting the tunnel the road splits into two. Take either path as neither hold an advantage over the other and continue into a wide canyon. Soon after houses will appear, meaning you are about to enter the Icebound Citadel. [a] Take care to avoid any sharp turns. Stone constructions jutting out from buildings or staircases might launch you into the air. After driving through the large stone gate comes a heavily slanted path curving to the left, followed by a short split in the road. The track will eventually exit the citadel again and head straight for the finish line.
↑ The Glacier Alley track is visible on the left but blocked with a barrier.
Game mode
Eco cup
Race event
Medals req.
Bronze goal
Silver goal
Gold goal
Lap limit
Time limit
Adventure mode
(Hero mode)
Red Eco Cup
Rush hour
33
80
(250)
140
(350)
200
(450)
None
3:00
Blue Eco Cup
Circuit race (qualifier)
40
Rank 3rd
Rank 2nd
Rank 1st
2
None
Exhibition mode
Circuit race
Rank 3rd
Rank 2nd
Rank 1st
2
None
Death race
100
130
160
None
3:00
Freeze rally
2:10:00
1:50:00
1:30:00
2
None
Rush hour
80
140
200
None
3:00
Time trial
2:30:00
2:20:00
2:10:00
1
None
Turbo dash
Rank 3rd
Rank 2nd
Rank 1st
None
3:00
Community content is available under
CC-BY-SA
unless otherwise noted.